Who do I contact with a question and/or issue?
First, read & review all these FAQs to see if your question/issue has already been addressed.  Follow this guidance if the FAQs do not address your question or issue….  If you are a tenant or guest, contact Marsha Davis (502) 817-5454 (text is best) or email question222@sunchase102.com
Where do I park?
Park under the building in space 102. This space is the only dedicated parking space for our guests. It's located in the back on the left. You will need to display your parking permit. Never park in someone else's parking space. You will get towed at your expense. NOTE only one parking space is available for each unit in the complex. If you have more than one vehicle, please go to this link to see more parking options https://www.gulfshoresal.gov/1139/Beach-Parking
Can I bring my pet?
Unfortunately, no. Pets are not allowed within the building, on the building grounds or the beach per the Rules & Regulations, even your cute little well-behaved purse dog is not allowed sorry.
Does the building have an elevator?
Unfortunately, no.However, unit 102 is on the 1st floor and only requires one flight of steps.
Is a deposit required and when do I need to pay?
A 50% Nonrefundable Deposit is required upon booking confirmation and will be applied to your balance. The full amount of the remaining balance is due and payable 30 days before check-in. Payments are due immediately if you book a rental less than 30 days before check-in. We will email you approximately one week before your payment date to remind you when your payment is due. This email will also enable you to update any information that may have changed since you made your reservation.
How can I pay?
We accept payment by credit card, Venmo, Cash App, check, or bank draft (in US Dollars). All reservations must have a credit card on file for damages no matter how you decide to pay.
What is your cancellation policy?
Cancellations or changes to a reservation are not permitted within 30 days of the Guest's check-in date. Condo 102 will not refund any portion of rent or fees if the reservation is canceled less than 30 days before the check-in date. All cancellation requests must be emailed to cancellations@sunchase102.com and confirmed by the owner William Davis. The 50% Non-refundable deposit fee will not be refunded.
We strongly suggest purchasing travel insurance to protect your vacation investment and cover an unforeseen event, such as sickness, injury, or trip delay. Travel insurance is your best option to protect your vacation rental investment.
Do I need to meet someone to pick up the keys?
 In most cases, you can check yourself in with the codes that will be emailed to you about seven days before check-in.
When are Check-in and Check out times?
Check-in is at 4 pm or later, and Check out is no later than 10 am. Early check-in and late checkouts can be arranged for a fee if the rental calendar permits, but we cannot guarantee any.
Why do your costs look different than I see on outside websites?
Many external websites are like bulletin boards and may not be up-to-date with our rental rates, may not advertise our current specials, may charge you an additional service fee, or combine the total cost of your rental into one lump sum rather than breaking down the booking charges for rent, cleaning fees, damage protection, taxes, etc.
Please book with us directly via our website for the most accurate and best rates available.
Is there beach service available? Can i get chairs and an umbrella setup for me?
Yes, Our condo is serviced by Suncoast Beach Service. They offer beach chair and umbrella rentals. Pick your chairs out upon arrival and leave the rest to them. They will set you up daily; just come down when you're ready to relax!
more info at https://www.suncoastbeachservice.com/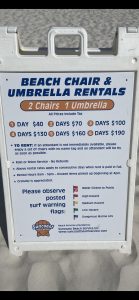 Do you offer transportation to and from the airport?
No, please arrange your transportation to and from the airport. Most of our guests use Uber or Lyft. There are also independent transportation and shuttle services on the web.
Do I get daily cleaning services?
Your cleaning fee only covers the cost of cleaning the property when you check out. We do not offer daily cleaning services